Motherhood is an extremely personal and individual journey. While there are certainly similarities in the stages of a mother's journeys, each one is special because of the uniqueness of each mother and child relationship.
My friend, Nicole, recently wrote an ebook about her own motherhood story and fittingly named it
Meeting Motherhood
. She shares a collection of stories about her experience as a new mom, some light-hearted and others more serious in nature.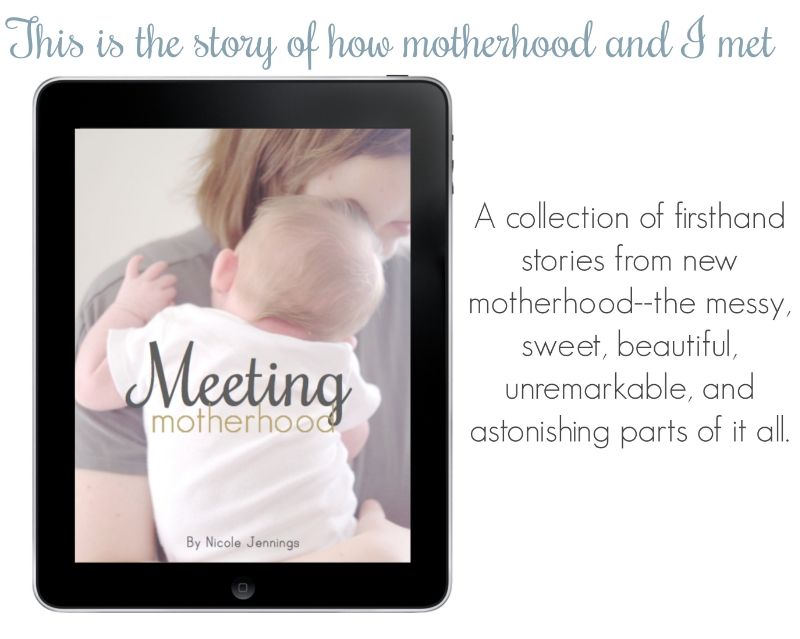 In addition to the sweet stories, Nicole created a beautiful
series of printables
, some are Bible verses and others are quotes. There are even a few free ones on the Meeting Motherhood website, so be sure to check it out.
Whether you're a new or expectant mom, you'll appreciate Nicole's genuine words in the ebook,
Meeting Motherhood
.
As a mom who works outside the home five days/week, I find myself feeling like I straddle a fence. One foot is planted in the world of all-things-mommy and the other rooted in more than five years of working at the same place. For me, that means I read mommy blogs and higher education articles from my iPhone while nursing, I log into Facebook to connect with a private group of moms who share tips and articles about motherhood and I scan Twitter and Instagram for inspiration in my "free time.
Nicole's collection of stories about her motherhood journey is so honest and I found it reassuring to hear she's had mishaps and beautiful moments all in the same day. There are times that motherhood can feel totally overwhelming, but I am so grateful for women like Nicole to share the journey with.