Last week,
Jessi
and
Hayley
shared what they call
giving up on good
, meaning they don't and can't do it all. As women living in the 21st century, especially in North America, there is almost an expectation that we are over-committed
and
look pulled together. The blog world can exemplify this and make me feel like I have to post perfectly edited photos, make pretty things and dress in the latest fashions. Even if I'm not blogging about the those things, they easily come to mind as I peruse check Twitter, read my favorite blogs and especially if I peruse Pinterest. The messages of apparent perfection are all around.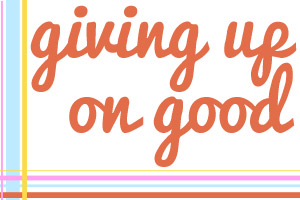 As I've mentioned before, we are in the midst of renovating our
home
((and doing it ourselves)), so there is also a fine layer of dust ((from sanding the walls or ceiling)) that can be found hanging around the house. So for the past few months, I've been giving up on not stressing about the state of our house. We've been in the house for just over a year and jumped right into tearing out the kitchen so it's taken me
months
to realize I can live with multiple unfinished projects ((and I don't mean this in anyway as a stab at my husband who is renovating our place...messes drive him crazy too)). Life goes on quite easily with an unfinished ceiling and walls that are not completely painted and curtains...who needs those? As long as my neighbors are not peeking through the windows, I'm safe ((or so I tell myself)).
living room and kitchen in the background ((note the unfinished entryway)) // sun room without shades or curtains
We are blessed to be able to live this way. As much as I wish we were parents at this point, I also know we wouldn't be able to do the renovations we are in the process of if there were little ones in our home. It would be near impossible to rip up floors and deal with multiple messes from the projects underway. It's hard enough to keep the dog from finding a stray piece of plaster to chew on. So, I am embracing the present, relishing the
finished projects
as they come.
And I'm giving up one more thing. I have only shared "what I wore" posts a few times and felt something in between guilt and embarrassment. I wondered if my colleagues would judge me or worse yet, a college student I work with would find my blog and think I am trying to be a fashion blogger. But the truth is, I feel better about myself when I wear a cute outfit and look pulled together. Don't you?
So I'm giving up ((at least trying to)) on calling myself vain for posting a photo of my outfit on Instagram or my blog. I do it to show how I can look fashionable without spending a lot of money. I typically shop at consignment and thrift shops, Old Navy and Target. And lately, we've had a spending freeze, so I've been learning to create "new" outfits out of what I already own. It's a fun challenge at times to update an outfit with an accessory I won from a blog giveaway or a garment I upcycled into something more trendy.
dress from H&M, tights from Target, Crocks ballet flats // cardigan from J.Crew, blouse from Target, pants unknown, flats from Old Navy // skirt from TJMaxx, ring from
Ephemeral Pillages
It may sound like a weird thing to give up on. But for right now, I am giving myself the freedom to look pulled together and feel confident about myself. The reality is, just because I post a photo of my #OOTD, the laundry still has to be done, the dishes are still piled in the sink and the living room is in disarray.
{Linking with
Jessi
and
Hayley
}