This is a fall favorite for me-- just combine the ingredients and bake for about an hour! I
love
simple & tasty recipes...don't you?
ingredients
1 15 oz. can pumpkin puree
8 oz. evaporated milk ((usually comes in 12 oz. cans))
1/2 c. sugar
1 tsp. vanilla extract
1/2 tsp. cinnamon
1/2 pkg. yellow cake mix
1/2-1 c. chopped pecans
1/2 c. melted butter
directions
combine first five ingredients ((pumpkin puree, evaporated milk, sugar, vanilla extract + cinnamon))
pour into greased 13x9 baking dish
sprinkle cake mix evenly over pumpkin mixture and drizzle butter over top
sprinkle pecans on top and bake at 350 degrees Fahrenheit for 1 hour ((or until golden brown))
let stand for at least 10 minutes before serving ((serve warm or at room temperature))
top with cool whip and/or nutmeg if desired
Wanna know a secret? I like this more than pumpkin pie!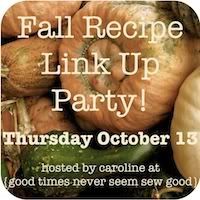 and I'm linking to
Scatter Girls' Pumpkin Link Up
.