i'm joining carissa from lowercase letters today!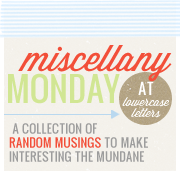 1. i appear to be a slacker.
you've seen fewer posts lately & it will probably continue over the coming month or two.
our internet was 'terminated' without notice
& with our lease ending next month
it seems silly to pay a fee to start it again.
we're relying on one of our phones as a 'hot spot'
which is slower than expected i'm used to.
it might actually be a good thing for me to spend time on some other things though...
2. new music monday, yes please!
today, i'm listening to adele.
you can find a link to the new album 21 here.
i'm really enjoying it, good energy for a monday morning.
3. taking recommendations for chicago
in three weeks i'll be in the windy city [for work]
and i haven't spent much time there so i'm up for suggestions
on places to see, eat, get coffee and people watch!