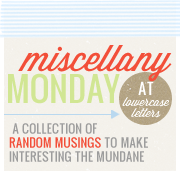 1. This is the week I've been waiting for for months!
I start the week in Chicago and end it in Guatemala City.
I'm meeting
#sachat
friends in real life.
2. You may have already noticed, but I'm
tweeting
like crazy
[hello student affairs conference season]
and if you're still interested in learning more about Twitter
check out these posts
here
and
here
3. Have you heard about
Handmade with Purpose
?
My blog friend, Lindsay, is getting this effort started, so check it out
especially if you have a handmade shop!
Happy Monday, friends!