too soon to think about the holiday season?
have you heard about this amazing idea? i'm so pumped for it!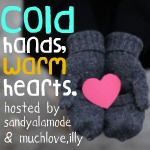 it got me thinking about what kind of mittens or gloves i'll send to a new friend in blogland.
(seems fitting since i had to pull out my wool coat & gloves this week)
here are some cute winter accessories i came across this week:
who is ready for winter now?
my weekend to-do list includes organizing my hats, scarves & mittens/gloves
and i have to share my find of the week, got it at t.j.maxx for $6.99
happy friday, friends!